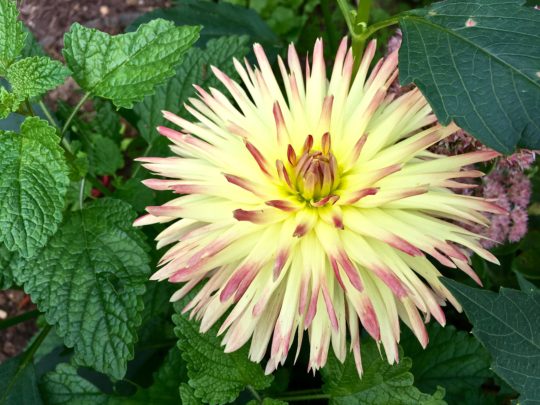 A cactus dahlia blooming in my garden
Fall may be poking a tentative finger into my garden, but my dahlias still think it's summer. Every morning I wake up to a multitude of new blooms. And, no matter how many I harvest, the next day there are still more waiting to be cut. To me, October means breakfast with an armload of fresh flowers whose brilliant, flat-tipped petals are still wet with the morning dew.
My first memories of dahlias date back to the 1960s when I was a kid growing up in northern Delaware. This was a time when suburbs were still sprinkled with working farms in an eclectic mix of cow pastures and neatly manicured lawns. One such farm was located at the crossroads of two suburban streets, Silverside and Faulk. In September, the portion of the property adjoining the busy corner transformed from grassland into a field of dahlias.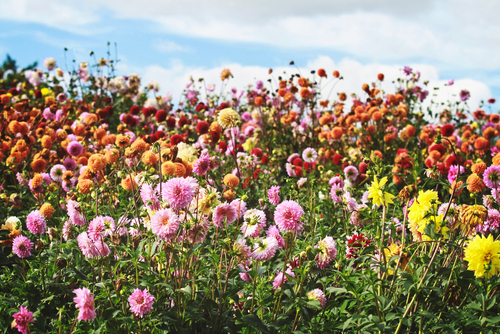 And these weren't your ordinary dahlias, mind you, many were the gigantic, dinner plate size; the kind that drives a kid mad with desire to jump out of the car just to be among them. Standing as tall as adults, they would gently sway in the breeze, tilting their giant heads in salute as we slowly motored by.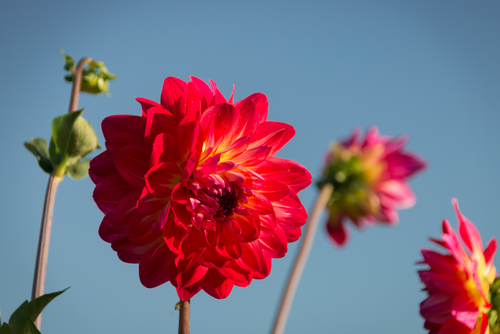 I'd crane my neck out the window and watch them until they gradually disappeared, dissolving as one into a sea of rippling colors.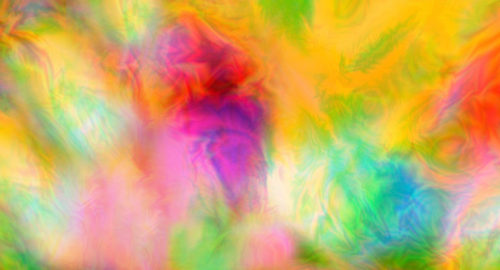 Thus began my love affair with dahlias.
So many dahlias, so little time
Dahlias are tuberous, herbaceous perennials that are native to the tropics. They are members of the Aster family, which includes sunflowers, echinaceas, rudbeckias and more.  (Take the quiz to see how many you know. ) Classified as tender perennials, they may be annual or perennial, depending on what the climate is like where you live. They start blooming with other late-summer flowers in August and often don't quit blooming until the end of fall.
Perhaps best known for their tall, celery-like stems and gigantic blooms, the flamboyant flowers nevertheless come in all kinds of sizes. These range from the very tall (around 7 feet) to just under 12 inches. There are literally thousands of varieties.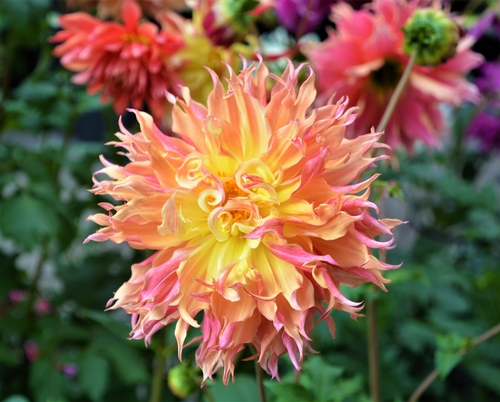 Flowers as big as a foot
The most notable feature of all dahlia types are their flowers, which can range in size from a diameter of just under 2 inches to almost one foot. And among the many sizes, there are different flower types, each with their own specifications. These include species with single, double and semi-double petals, those with unusual shapes like spherical or cactus, and varieties that resemble other flowers such as anemones, peonies, orchids and waterlilies.
Waterlily dahlia 'Pam Howden'
Last but not least are the dazzling colors. Dahlias come in a seemingly infinite variety of colors including pinks, reds, scarlets, oranges, purples and yellows, as well as creamy and brilliant whites. Many flower petals often come with strips or tips of another color.
So, with so many options to choose from, how to decide? One way is to get acquainted with the most commonly used classifications. These help define each dahlia's unique shape and structure and can aid in their selection.
TEN MOST COMMON DAHLIA TYPES
Single-flowered dahlias feature a single row of flat or slightly cupped ray petals surrounding a central disc.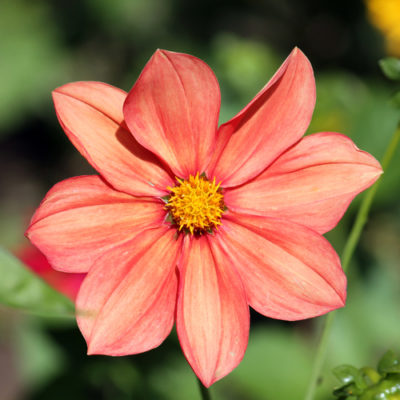 Single-flowered dahlia
Semi-double dahlias have two or more rows of petals surrounding a central disc.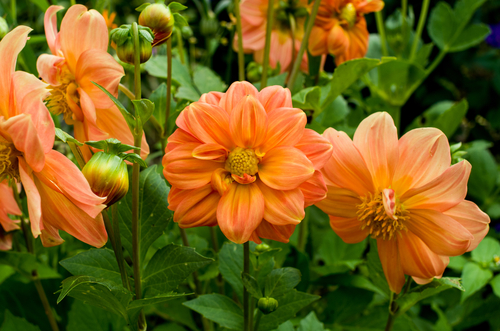 Semi-double dahlias
Mignon dahlias are similar to single dahlias except their petal florets are rounded and their disc flowers have no more than two rows.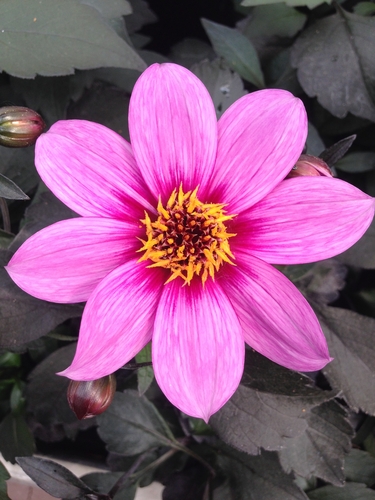 Mignon dahlia with burgundy/black foliage
Anemone dahlias have an inner disc made up of elongated, tubular shaped florets and an outer ring of one or more rows of flat ray petals.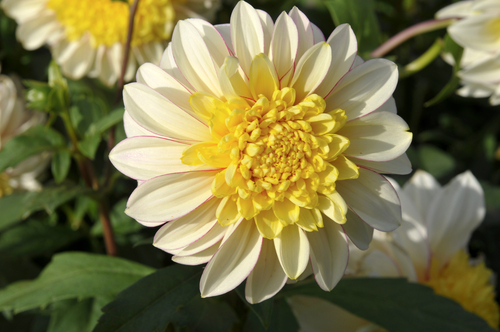 Anemone dahlia 'Polka'
Orchid dahlias are open centered flowers with just one row of ray florets surrounding a disc. The petals are often overlapping and curled for most of their length.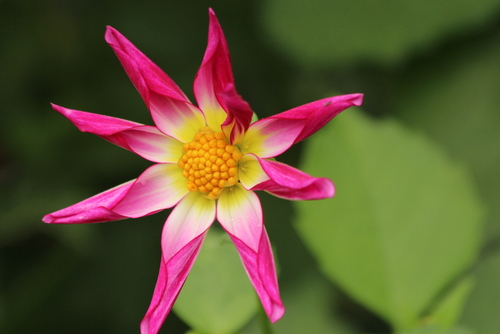 Orchid dahlia
Collarette dahlias have one row of flat petals surrounding a disc as well as an inner wreath of shorter petals called the 'collar'.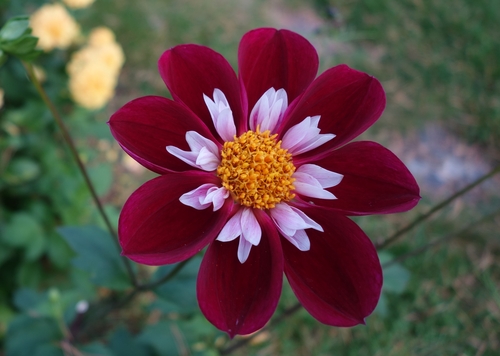 Collarette dahlia 'Mary Eveline' plum red petals with white 'collar'
Ball and Pompon dahlias are ball-shaped and feature double flowers with rounded or blunt tipped florets. Ball dahlias have round, cupped petals that are spirally arranged in a honeycomb shape. The flower may be slightly flattened. Pompon dahlias are slightly smaller. They are known for their perfectly round flower head.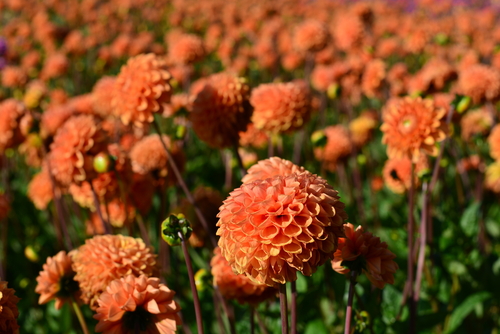 Orange ball dahlias – notice the slightly flattened shape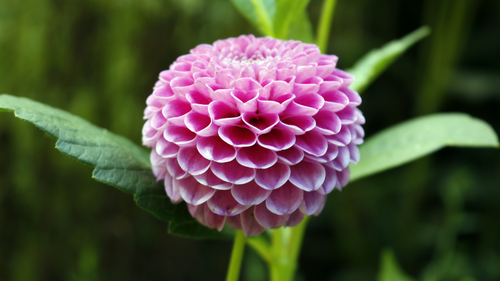 The perfectly round pompon dahlia 'Franz Kafka'
Decorative dahlias are double dahlias that feature flat, oval petals with tips on the end. Formal varieties have regular, evenly placed petals, while informal varieties tend to be arranged in a more haphazard way. Both varieties grow to over 40 inches.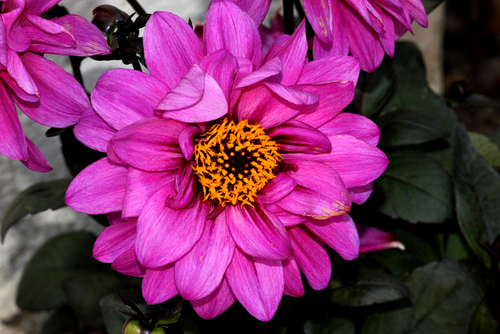 Decorative dahlia 'Lisa Dark Pink'
Cactus and semi-cactus dahlias. Both have narrow pointed petals that roll back on themselves, giving them a spiky look. Cactus types are rolled for their full length, while semi cactus types include a mix of flat and rolled petals. Both are considered double flowers and reach an average height of around 40 inches.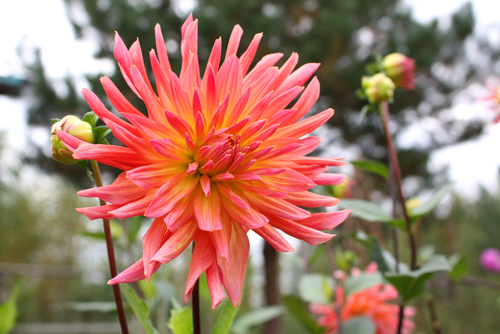 Orange cactus dahlia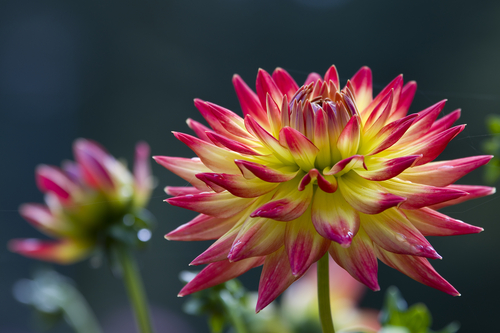 Semi-cactus dahlia 'Aloha'
There are many other varieties, including peony, waterlily and stellar, not to mention the celebrated 'Dinner Plate' which falls under numerous categories. The Miscellaneous Dahlias category alone includes hundreds of varieties.
Ready to add dahlias to your garden? Every year, among the ten top things I want to achieve or change in my garden, I resolve to plant more. Here's how.
When to plant dahlias
Dahlias are sold as tubers and need to be planted after the ground has warmed up and there's no danger of frost. I usually plant mine in the late spring just around the time my tulips have faded. Plant the tubers in well drained soil in full sun for best results. You can also pot them up indoors a couple weeks beforehand to give them a head start.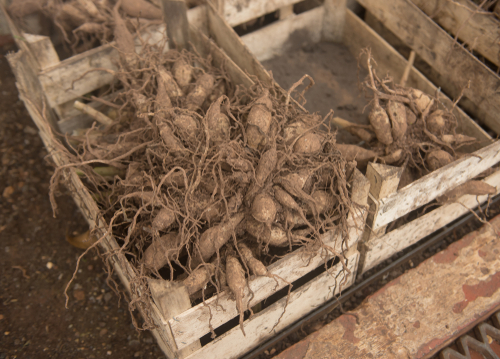 Dahlia tubers need to winter indoors in a cool, but not cold, space
Considered hardy outdoors in USDA zones 8 to 10, dahlias are considered tender in my neck of the woods (Zone 6.) Once they're done flowering in the fall (or right after the first frost), I dig them up, label them and store them in a dry spot in the basement.
Want to learn more about dahlias? Visit Longwood Gardens' annual dahlia show, held each year in Kennett Square, Pennsylvania. Looking for a great place to buy tubers? Check out the beauties at Eden Brothers, one of my favorite online sources.
Dahlias were named for the 18th century Swedish botanist Anders Dahl.