One of my favorite places to visit in the early spring is Delaware's historic Winterthur Gardens. The estate's stunning 60-acre naturalistic garden has one of the finest displays of early spring bulbs around, all staged to flower successively in a colorful quilt woven of purples, pinks, blues, yellows and whites. And every year when the show begins on the garden's famous March Bank, I vow that I will plant hundreds of these tiny bulbs the coming fall so that I, too, can bask in their miniature early-spring glory.
Of course you don't have to plant 70,000 of these tiny bulbs, which is the number replanted annually on the March Bank by Winterthur's dedicated garden staff, but a few hundred of the dwarf-sized early bloomers, called "minor bulbs" can give you months of early spring satisfaction. It's worth the effort just so that in the late winter you can enjoy seeing your lawn or hillside blanketed in shades of lavender and blue.
At Winterthur, they have carefully arranged their bulbs to blossom one species after another, moving gradually through a color palette of snowy whites and bright yellows (beginning in very early spring, sometimes blooming even in the snow) to a spring medley of lavenders, purples and pinks. Many of the early bloomers hang on for the second part of the show making for a garden tapestry of staggering beauty.
And all of this is doable for the average homeowner – unlike large bulbs that have to be planted individually at depths of 6 inches or more, the tiny 'minor' bulbs require a depth of only around 3 inches. And, best of all, if you're planting them in large swaths, called drifts, you can dig out entire trenches to the appropriate depth, throw them all in and backfill.
Here are the early blooming bulbs that Winterthur plants on the March Bank each year. All of them are easily available at your local nursery or by mail order. Get out your trowel! The time to plant these miniature early bloomers is now.
A member of the amaryllis family, the tiny snowdrop with its delicate, white hanging flowers is one of the most popular of all bulbous plants. Traditionally signaling the end of winter, it flowers before most other plants, typically between January and March in northern temperate zones. Growing to about 4 inches tall, it features nodding, bright white flowers on bluish-green leaves that have hardened tips in order to poke through the frozen ground in late winter.
Growing just 4- 6 inches tall, the winter aconite is one of the first herbaceous perennials to appear in spring, sometimes as early as January in more temperate climates. The bright yellow, cup-shaped blooms add a visual punch to the grey winter landscape and are spectacular peaking out through the snow. Winter aconites make perfect companions to snowdrops.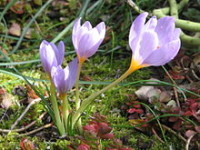 Crocus
Not exactly a bulb, the crocus grows from a corm. Comprising 90 species, the numerous varieties are cultivated to produce flowers in autumn, winter or spring. They grow to around 4 inches high and come in yellow, white, blue and bicolor combinations. A favorite at Winterthur is Crocus tomasinianus, also known as "tommies" named after an Italian botanist, Muzio G. Spirito de Tommasini, who was the Mayor of Trieste from 1794-1879. One of the smaller of the species, "tommies" have lilac blooms and grow only to about 2" high.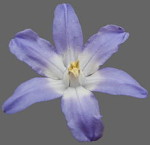 Glory-of-the-snow (Chionodoxa luciliae)
Often confused with the early-blooming Scilla, to which it is closely related, Glory-of-the-snow is nonetheless a separate species. Blue white or pink flowers appear in early spring. The name is derived from the plant's habit to flower in alpine regions just as the snow is melting in the spring. The beautiful and delicate-looking flower grows from 4 to 6 inches tall.
As its name suggests, this tiny early bloomer with a deep blue, drooping, bell-like flower, is extremely cold hardy. Bright blue petals with a dark blue stripe feature white stamens with dark blue tips. Flowers emerge over little tufts of grass-like foliage in early spring and bloom from March through April. Can spread rapidly.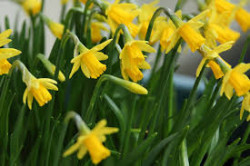 Miniature daffodils (Dwarf narcissi)
Not to be confused with their larger cousins, these miniatures bloom early in the spring at the tail end of winter and are truly dwarf in size, growing to only about 6 inches tall.
The species Tete à Tete opens mid March to early April and often has flowers in pairs (hence "two people talking to each other" the definition of Tete à Tete). Golden Bells has large gold trumpets with small pointed petals, and grows 4 to 8 inches tall. The adorable Minnow has 3-5 blossoms per stem and has creamy white petals with buttery yellow cups.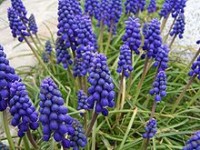 Grape hyacinths (Muscari armeniacum)
Grape hyacinths look like miniature hyacinths, but they are smaller and grow to only about 6″ high. The tiny cobalt blue spikes of flowers resemble beads (or blueberries) and emit a heady fragrance. Grape hyacinths self-sow easily, rapidly forming carpets of deep blue. Plant them with yellow daffodils for a cheery burst of early spring color.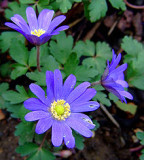 Grecian windflower (Anemone blanda)
This tiny daisy-like purple-blue flower with a yellow center appears in early spring before most other species. The delicate petaled flowers grow 3-8 inches tall and can easily form carpets of color across wide expanses of space. Also available in shades of pink or white.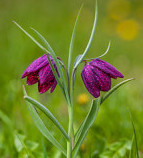 Snakes head lily (Fritillaria meleagris)
A member of the lily family, Snakes head lily is  also referred to as the checkered daffodil or drooping tulip, due to its maroon checkered, daffodil-like drooping blooms. The tiny bulb flowers from March to May and grows to 6 to 10 inches tall.

Spanish Bluebells (Hyacinthoides hispanica)
Also known as wild hyacinths, Spanish bluebells produce 15-20 inch spikes of pink, blue or white bells in spring. The plants naturalize easily by reproducing baby bulbs on the sides of the mother bulbs. They also produce seeds, allowing them to cover an area quickly with their soft blue, bell-shaped blooms. Massed together in woodlands or throughout perennial beds, Spanish bluebells will bloom for a sustained period of time, tolerating both sun and deep shade. These miniatures flower later than most and are perfect for making the bridge from late spring to June.

It's important to follow a few general rules for successful bulb planting, first and foremost of which is to make sure to plant your bulbs in a well-drained sites (hillsides work great) to prevent against root and bulb rot. The tiny bulbs, like all bulbs, do not like waterlogged sites. All the bulbs can grow in full sun but, with the exception of the crocus (which requires sun) most will adapt well to shadier spots, since leafless tree branches let in plenty of sun in the early spring when the bulbs are most active.  The bulbs usually go dormant around the time the leaves appear.
When planting your mini bulbs, think broad strokes, not individual flowers. The tiny species are best appreciated in large clumps or broad drifts. Combine different colors and shapes together for a great tapestry-like effect.
Because they're tiny, the miniature bulbs work well on small properties and rock gardens, edging lawns and walkways, and even sprinkled throughout the woodlands. An even bolder move, is to plant a portion or all of your lawn with the tiny flowers. Come spring, you'll be looking at a carpet of color way before you have to worry about mowing the lawn.
Proper depth is crucial to a bulb's success. A general rule of thumb is to plant bulbs to a depth of three times their diameter, but check the packaging for other important information. Use a trowel or a bulb dibber to plant the bulbs, or dig a trench and throw them all in at once. Remember to place the bulbs with the growth points facing up before you backfill. And add organic content such as compost before planting to improve the soil.
Fertilize in early spring with a good bulb fertilizer as soon as new growth emerges. Fertilize again in the fall to feed the roots during the winter. This will positively affect the quantity and quality of blooms you have the following spring.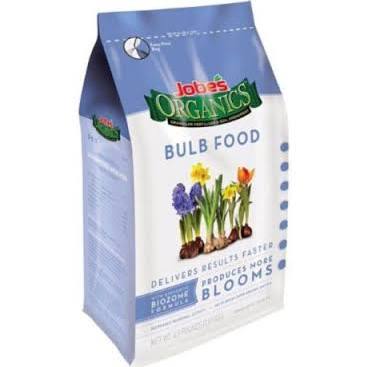 Lastly, try not to cut back the foliage once the flowers begin to fade. During this crucial stage, the plants' leaves are manufacturing food to be stored in the bulb for next season's growth. Cutting the leaves too early will interrupt this process.