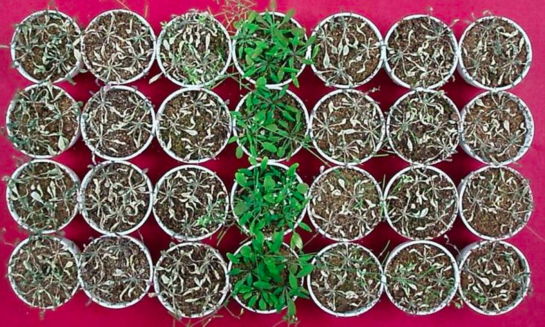 After 14 days without water, only the plants treated with vinegar survived. NIKEN
Before you wrinkle your nose at this, hear me out, because it's true. Scientists in Japan have discovered that 'watering' plants with vinegar can help them survive longer in drought conditions. I don't know about you, but I'm reaching for that bottle of white vinegar right now to see if my hydrangeas wouldn't like a swig.
Last week, scientists at the RIKEN Center for Sustainable Resource Science (CSRS) published the results of a study in Nature Plants that reported they had uncovered a novel way to help plants survive drought. The study revealed that the researchers had stumbled upon a new biological pathway in plants that sprang into action in times of water stress. By further unraveling the pathway and the roles different chemicals played within it, the scientists discovered they could induce greater drought tolerance by growing plants in vinegar.
We all know vinegar's miraculous properties for cleaning windows and removing stains from carpets, but helping plants cope with drought? Now that is shocking news indeed.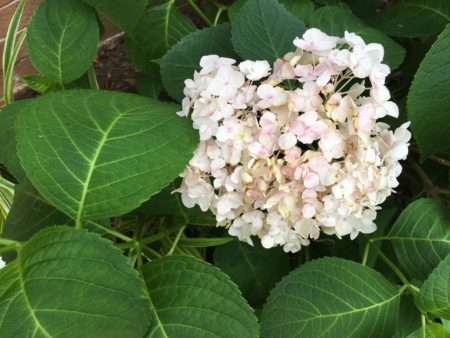 My hydrangea showing signs of water stress 
The study began with a collaborative effort to understand the plant Arabidopsis, also known as thale cress. A relative of cabbage and mustard, the genus of small flowering plants is the first plant to have its entire genome sequenced (which makes it one of the model organisms used for studying plant biology.)  Most importantly for the purposes of the study, Arabidopsis has a strong drought tolerance. This is due to a mutation to an enzyme called HDA6 (histone desacetylase6) that allows the plant to grow normally without water for extended periods of time.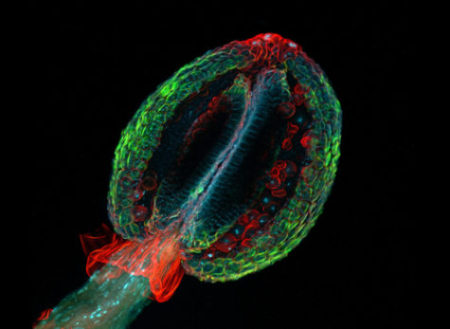 Microscopic view of anther of Arabidopsis, also known as thale cress
Initial testing showed that when experiencing drought stress, Arabidopsis uses HDA6 to activate a biological pathway that produces acetate, the main component of vinegar. The HDA6 enzyme acts as a switch, controlling which type of metabolic pathway (sequence of chemical reactions undergone by a compound in a living organism) is active. While normal plants are busy using metabolic pathways to break down sugar for energy, in times of drought, the Arabidopsis plants switch to the acetate-producing pathway.
To find out how this switch works in times of water stress, scientists conducted an experiment. They grew normal plants under drought conditions, treating some with water, some with organic acids and others with acetic acid. After 14 days, 70% of the plants treated with acetic acid were still living while all of the other plants had died.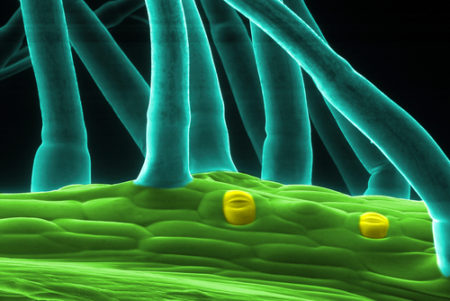 Microscopic view of stem epidermis of thale cress showing hairs and stomata
By measuring the amounts of acetate in Arabidopsis under stress, the team discovered that there was a direct correlation between the amount of acetate produced during periods of drought and how well the plants survived. And even more exciting, the team carried out the same experiment on rice, wheat and maize and found that their drought tolerance increased as well when grown in optimal acetic acid concentrations.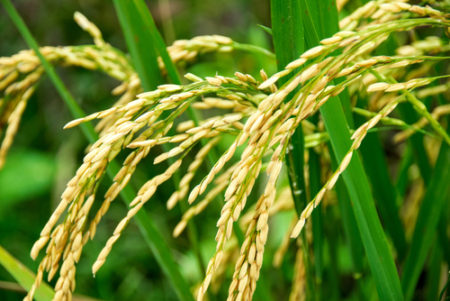 Close-up of rice plant
The implications of this research are huge. In an increasingly water-stressed future, this discovery might offer a simple, low-cost alternative to genetic engineering. I'm not sure if it will help my hydrangeas battle another scorching Maryland summer, but I'll let you know.