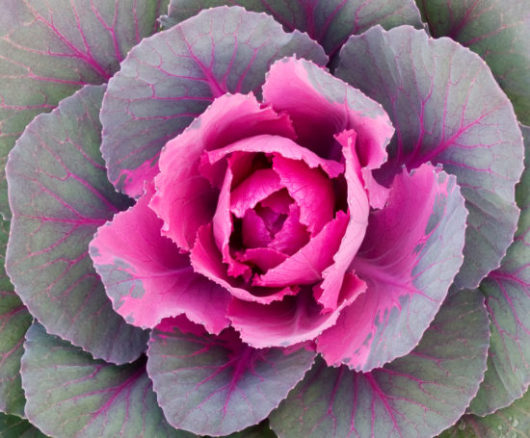 The distinctive rosette of ornamental kale
Long before it became a trending food, flowering kale was a garden star, delivering a pop of color to fall's graying landscape. The ornamental plant is not only prized for its ruffled foliage and spectacular rosette, it's one of only a few species that actually thrives in cold weather. In fact, flowering kale likes cool temperatures so much that it often stays attractive well into winter, making it the perfect choice for fall gardens and containers.
What is the difference between cabbage and kale?
A lot of people think cabbage and kale are the same, but technically they are not. Although they are members of the same species, Brassica oleracea (which also includes broccoli, cauliflower and Brussels sprouts), the two plants are structurally different. Cabbage is a multi-layered vegetable whose leaves come together to form a head.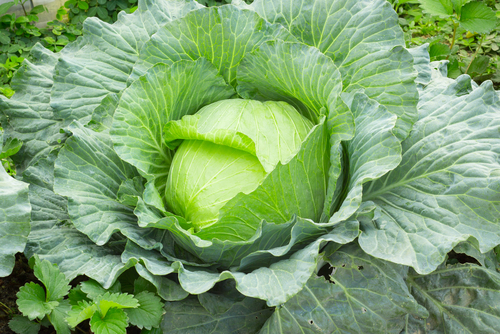 Cabbage head growing in the garden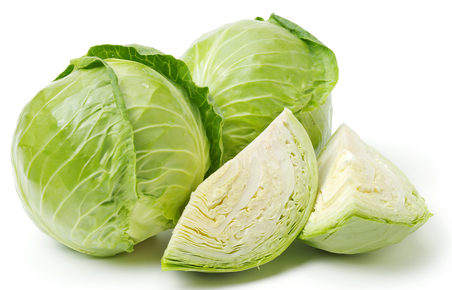 Cabbage heads
By contrast, kale produces a more upright cluster of leaves in the center of the plant called a rosette.
Ornamental kale
Both flowering kale and cabbage (also known as ornamental kale and cabbage) are highly prized for their large, colorful leaves that add interest to the fall/early winter garden. While both are considered kale (due to their inner rosettes), in nurseries you will generally find varieties whose leaves are broad and flat labelled as cabbage and those with ruffled, crinkled or curled leaves labelled as kale.
Both plants are edible, but beware- their bitter taste makes them better suited to garnishes.
Born to beautiful
Selectively bred to produce spectacular leaves and rosettes, flowering kale comes in many shapes and sizes. The outer leaves are typically blue-green and the rosettes, which grow larger as temperatures cool, shift gradually from soft green to bright shades of pink, red, white, yellow and purple.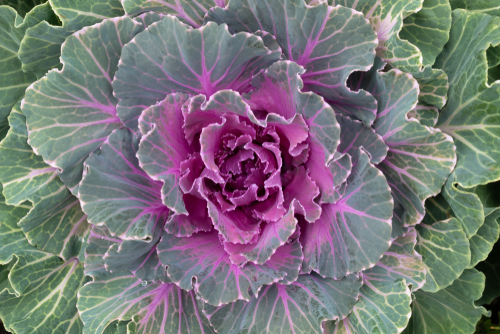 The distinctive, blue-green outer leaves of flowering kale
This vivid coloring and exotic form make ornamental kale a stunning addition to fall gardens where it complements other cool-season flowers such as chrysanthemums and pansies.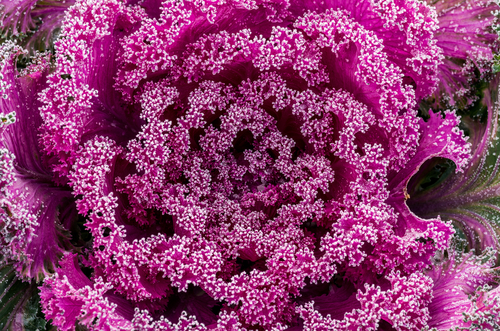 Flowering kale rosette featuring ruffled edges
And best of all, once nighttime temperatures fall below 60 degrees, the rosettes start taking on increasingly vibrant colors. Flowering kale usually reaches a crescendo of color just after the first frost, with some plants maintaining their intensity all the way until spring.
Low maintenance
Ornamental kale and cabbage require very little maintenance and are bothered by few pests. Plants prefer moist, well-drained soil and benefit from lots of feeding. For the best color, plant your specimens in full sun.
Look for larger plants (one gallon size), since there won't be much top growth after September. Keep spacing tight (10 to 12 inches) to encourage the florets to remain small and watch as daily, the leaves intensify in color. Plants generally attain a width of approximately one foot.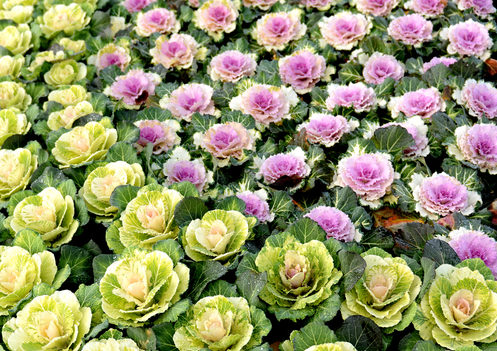 Here are some of the more popular varieties:
Redbor is a tall variety with narrow, upright deep purple, ruffled leaves. It is the tallest kale grown and can reach as high as 3 feet tall. Aside from its interesting texture and stunning burst of color, it looks great in the garden massed behind smaller cool-season annuals like chrysanthemums, pansies and violas.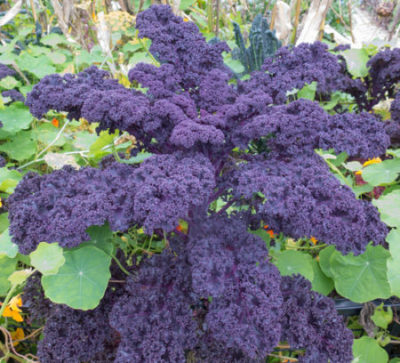 Purple-leaved Redbor kale
Peacock series ornamental kale are large, open and frilly plants that can grow to 2 feet across. They feature deeply serrated, feather-like leaves that surround cream or red-toned centers. Extremely cold hardy, they can survive even the harshest of winters.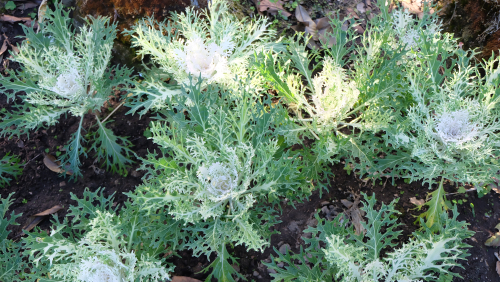 Deeply serrated, feather-like leaves distinguish Peacock kale
Pigeon Series (Pigeon Pink and Pigeon Red Pigeon Purple and Pigeon White) ornamental kale most closely resemble cabbage with their tight rosettes of light pink, dark red or creamy white. The round-shaped plants have wavy outer leaves that remain medium to dark green while the flower-like centers change color.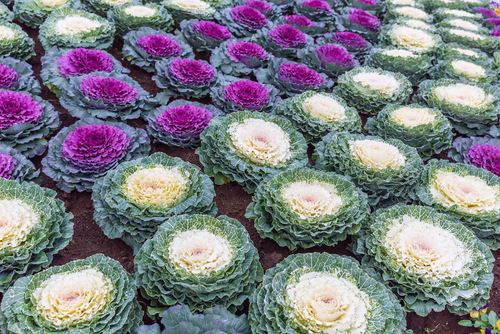 The tight rosettes of ornamental kale 'Pigeon Series'
Osaka Pink, Osaka White and Osaka Red are often termed ornamental cabbage due to their smooth, flat leaves and tightly-packed florets. The plants produce layers of wavy edged leaves that remain green while the plants' center rosettes change to bright purple, pink or cream.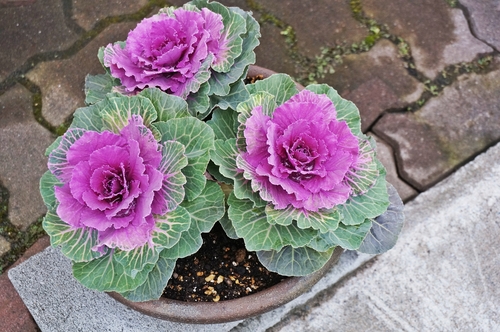 Osaka series ornamental kale has flat green leaves like cabbage
Ideas for designing with flowering kale
Due to its large size, flowering kale looks great when planted alone in single pots. It also works well when massed in the garden, particularly when different varieties are combined to form patterns.  The plants really shine in a parterre garden, where the dense green leaves of surrounding evergreen shrubbery act as a counterpoint to the colorful, broad-leaved ornamentals.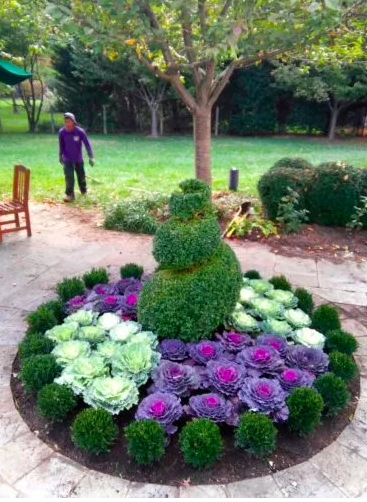 Parterre with two different varieties of ornamental kale/herebydesign.net
In larger containers and planter boxes, stunning compositions can be created from the taller, frilly purple and green kale varieties and the rounder, broad-leaf Osaka. Here, the trailing ends of bright green lysimachia soften the mix.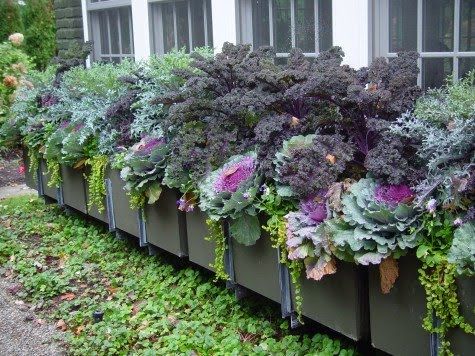 The Impatient Gardener/Pinterest
In this smaller pot, I've combined ornamental 'cabbage' with violas and Swedish ivy. The color of the kale picks up the tones of the purple/red container.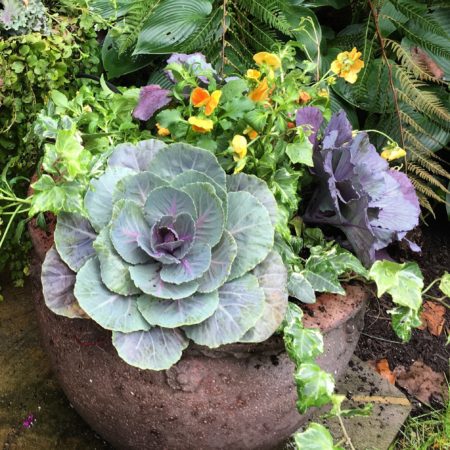 Fall container with ornamental kale/herebydesign
In this footed container, I played up the drama with a tall mix of grasses, different varieties of red and green kale, violas and red potato vine.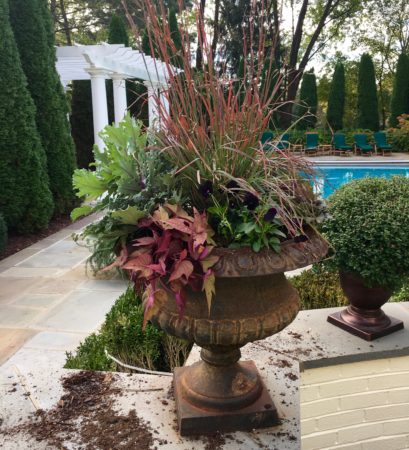 Fall container with grasses, ornamental kale and potato vine/herebydesign
Since ornamental kale maintains its color well into winter, it makes a great addition to any cold-weather container. Here, a creamy white variety is paired with weeping evergreen foliage, pinecones and yellow catkins in a stunning winter arrangement.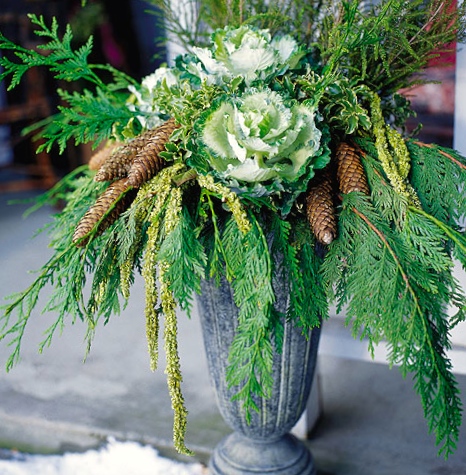 Photo: Canadian Gardening/Pinterest.com
In the garden, deep purple kales like Redbor pair beautifully with salmon chrysanthemums and ornamental grasses such as Maiden grass that feature creamy white plumes.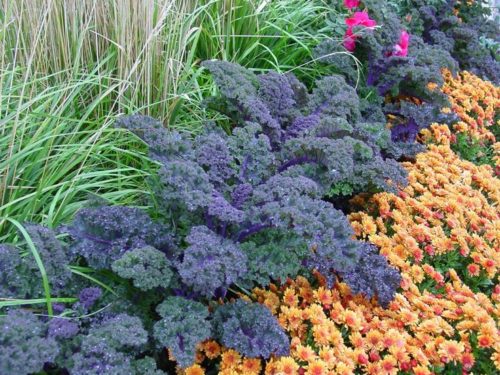 Photo: Hoosier Gardener/Pinterest.com
When combining flowering kales with other plants, think about varying the foliage. Here, purple fountain grass and lime green potato vine provide color and texture contrast to this frilly purple variety.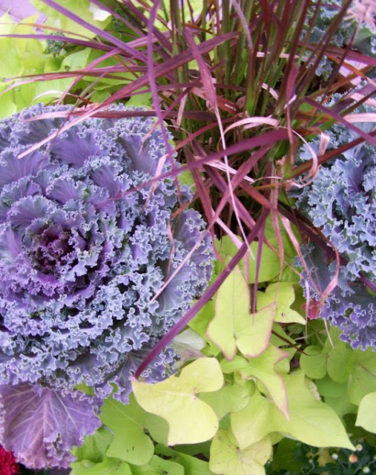 Photo: Three Dogs In A Garden/Pinterest.com
Ready to get started? Check out your local nursery for the newest varieties and don't be afraid to combine them with other cool-season annuals in your fall pots and containers. And don't forget evergreen branches, dried flower heads, catkins and berries, all of which add interest to containers and help pump up the volume.