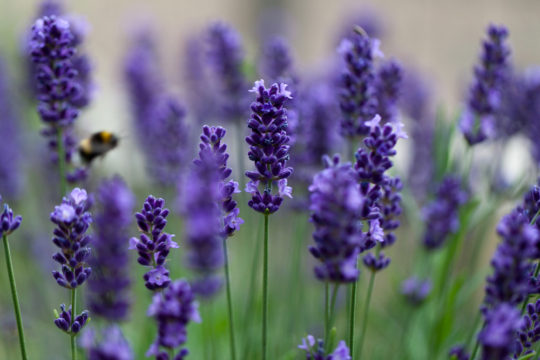 One of the perks of being a master gardener is all the great lectures you get to attend. Today's talk following the board meeting was no exception. It happened to coincide with the very moment I was asking myself "What's going on with my lavender?" Here was professional grower Sophia Watkins, ready to answer all of my questions.
A family-run lavender farm named Soleado
Watkins runs a family-owned, sustainable lavender farm located at the foot of Sugarloaf Mountain in Montgomery County, Maryland. It is the largest lavender farm in the state. She grew up on the 286-acre farm, 26 acres of which are now dedicated solely to the cultivation of lavender.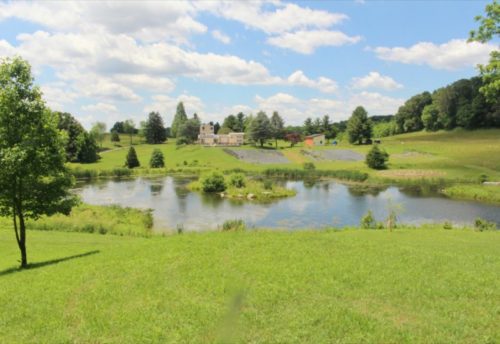 Soleado Lavender Farm
The family prides itself on its long history of organic farming, a practice Watkins' father adopted in the 1960s when the farm grew a mix of soybeans and grains. For a child, it was a fantastic way to grow up. So when Watkins and her fiancé took over the farm, they knew that they wanted to continue that legacy.
"Our goal was about preservation even more than about gardening," she said. "We wanted to protect these special parts of Maryland and keep them alive for not only our own child but for everybody else's children as well."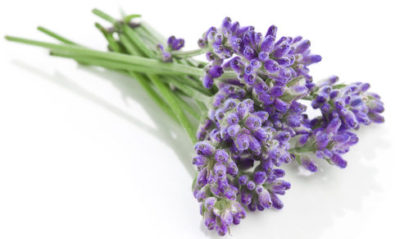 Why choose lavender? The couple was looking to grow a sustainable perennial that deer wouldn't eat and from which they could make products for sale. They hit on lavender not only for its drought tolerant qualities, but also for its many decorative and culinary uses. Along the way they added bees for pollination and today the farm boasts nine hives with over 40,000 bees in each, all producing lavender honey.
In a nod to Watkins' fiancé's Latin American roots, they chose Soleado as the name for their farm. As it so happens, in their first year of operation, they also found themselves 'dying in the heat' as they got things established. Soleado, meaning sunny or 'just baking in the sun' suddenly took on a new shade of meaning.
Tips for how to successfully propagate lavender
At Soleado, all of the lavender is grown from cuttings, a practice most nurseries have moved to given the lower germination rate of seeds. Watkins harvests soft and hardwood cuttings averaging around 5 inches. Once she has the cuttings, she strips them of their leaves and dips them in a root hormone. Her top choice for an organic one is (not surprisingly) honey.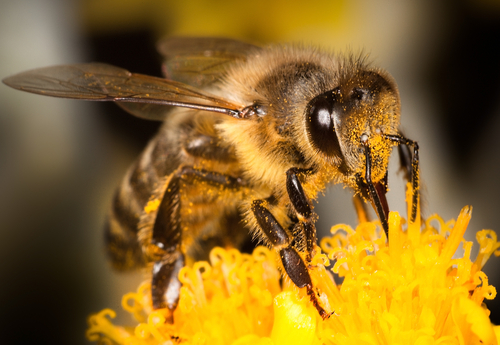 Watkins has had the most luck with her seedlings using a 'bulky' growing medium that provides maximum space for roots to expand. She mixes her own from Leafgro and perlite, then she plants the cuttings in 2" plastic pots.
Once potted, the cuttings spend up to 8 weeks in partial shade or in the greenhouse (under shade cloths) until they grow decent roots. After that, they're transplanted to the field. Watkins noted that if the seedlings are planted outside first, the process is usually faster.
According to Watkins, three is the magic number of years for a good-sized plant to establish, after which it may continue to grow for another four. What happens around year seven I asked? If taken care of properly, lavender can last a good deal longer, with 10 to 20 years not being unheard of. And some historical properties have plants that are as much as 80 years old.
A great combo, hydrangea and lavender
Once established, lavender is a sun-loving plant. No variety can tolerate shade and still produce flowers. Once the flowers are harvested, Watkins sprays the plants' roots with fish emulsion for fertilizer. "We need to fortify them after they've put all that energy into blooming, " she said.
Cut, cut and then cut again
There is so much conflicting information about when and how to cut back lavender. Watkins freely admits that her method might not suit everyone. But for Soleado, 2 to 4 times a year is ideal. They sheer their lavender like sheep, cutting back all new growth 3 to 4 times a year until the plants flower. The cutting back starts almost as soon as the seedlings are planted.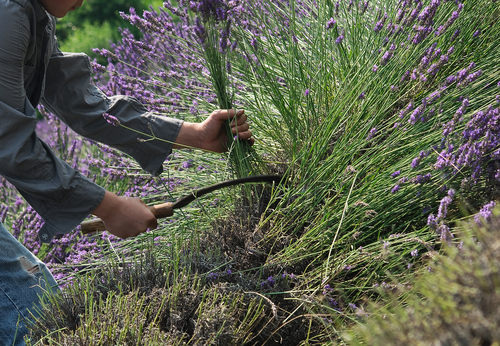 Cutting back encourages new growth
Since lavender has a tendency to open up in the middle, cutting back helps to encourage dense growth. This improves the overall looks of the plant and helps it get through the winter. It also allows more energy to go into developing strong roots, producing a thicker, healthier plant.
At Soleado, they cut back nothing thicker than a pencil, avoiding old wood. Watkins does NOT recommend cutting back old woody stems. If you absolutely must, she said to trim them back just to where the first bunch of leaves start on the bush.
They stop all cutting by the end of October.
Avoid shredded mulch
Along with lots of sun, lavender prefers to stay dry and ironically, once of its biggest threats to survival comes in the form of mulch. According to Watkins, shredded mulch is the biggest offender. Often harboring mold spores, this kind of mulch can spell death for lavender.
"What seems to really kill them is the mold spores that come in on shredded mulch," said Watkins. "Given the amount of humidity we have (in Maryland), it's really important to stick with a dry medium."
If you're using shredded mulch in the rest of your garden, Watkins advises keeping it at least 1 – 2 feet away from your lavender. At Soleado, they use crushed bluestone for mulch that they harvest from their driveway. Other great options include white gravel and seashells, both of which help to reflect light back onto the plant.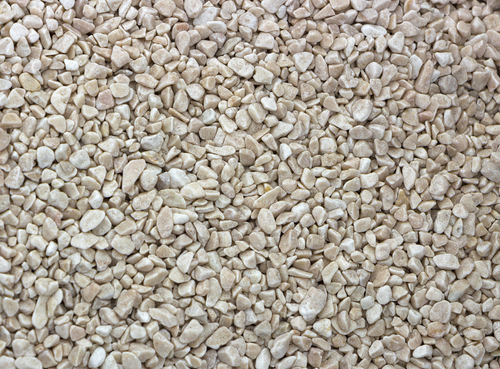 White gravel mulch
Wintering tips
Many of us have had the experience of losing our lavender plants over the winter. However, Watkins said, "Getting your plants through the winter does not have to do with size or age, even little seedlings can make it through the winter. A temperature of anything above 0 degrees Fahrenheit is OK."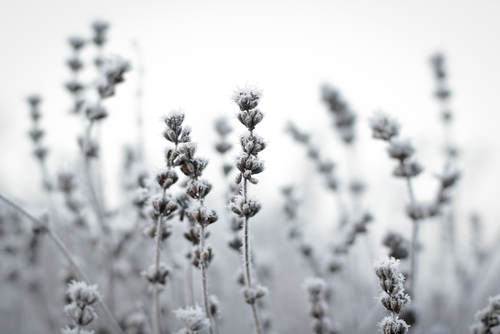 Frozen lavender
So what can we do to prepare for the colder months? The most important thing, according to Watkins, is to keep plants trimmed and thick. The thickness (or thatchiness) is what keeps the snow and ice out of the plants. (Although snow doesn't seem to be as bad for lavender as ice.)
It's a matter of creating a plants that have a good smooth cut on them so they become their own insulation.
No significant pests or diseases
Not only are its water needs low, but lavender is resistant to most pests and diseases. Watkins says occasionally she'll observe spittlebugs on her plants, but that's about all. The main concern is lavender's super susceptibility to mold spores (mentioned above.) The best thing you can do for mold is to practice prevention.
Another great plus to lavender is that deer hate them, although Watkins observed that "Sometimes they'll pull the seedlings out of the ground, 'Just because."'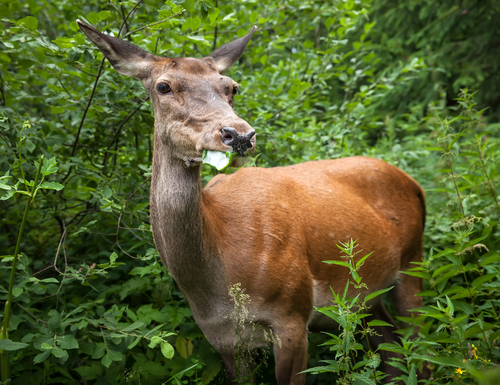 Soleado Farms grows a mix of English, French and Spanish varieties of lavender. They're always experimenting with new strains and have found that within each variety each year there are clear standouts. These days, Watkins is loving the "rabbit ear petals" on the flower tops of Spanish lavender.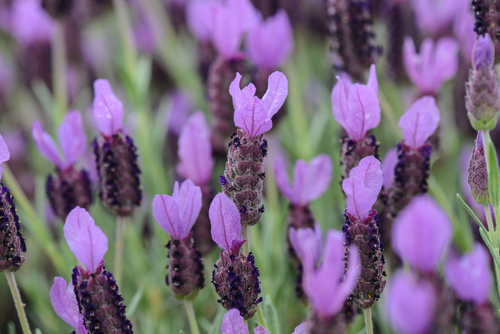 Spanish lavender
To learn more about Soleado, tours of the farm and their lavender-based products, click here for the official website.