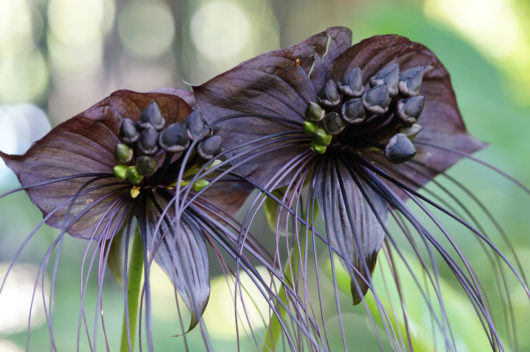 Black bat flower
In painting, black is the darkest hue, achieved by bringing any color to its darkest value. Black gives structure to a composition, creating the illusion of depth by drawing the eye. And in the garden, black (or almost black) flowers perform the same function, placing other colors in dramatic contrast while adding volume to the composition. I'm already planning gardens for my clients for next spring. And, included in many are a whole host of these elegant, almost-black plants and flowers.
By black, of course, I mean more of a deep purple or bluish-black. These days, you can find these hues in foliage as well as flowers. I use drifts of dark-hued plants of the same variety for impact and continuity in the garden, repeating the groupings to lead the eye through the space. Black plants give elegance to my compositions, providing a restful spot amidst all the color and textures of the garden.
Here are ten of my favorite plants with almost-black flowers and purply-black foliage.
Hellebore 'Onyx Odyssey'
When it comes to flowers, black sets off the brilliance of other surrounding colors, in particular, green foliage.  In late winter, one of the first almost black flowers to emerge in my garden is the lovely 'Onyx Odyssey', part of the Winter Jewels collection. The almost black petals with bright yellow centers are sheer drama silhouetted against their dark green leaves.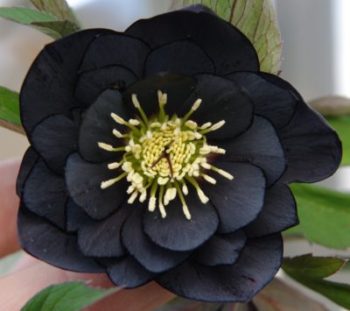 Hellebore 'Onyx Odyssey'
Tulipa 'Black Hero'
Tulips were perhaps the first species to really explore the darkest of colors. One of my favorite is the black tulip 'Black Hero,'  a double version of the tulip 'Queen of Night.' This late bloomer has peony-like blooms and is considered one of the blackest of tulips.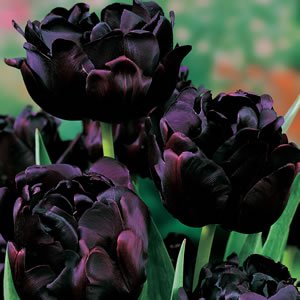 Tulipa 'Black Hero' available at gardenexpress.com
Iris 'Blackwater'
This tall bearded iris is almost completely jet black, with only a hint of purple in its velvety petals. Available through one of my favorite iris suppliers, Schreiners Gardens.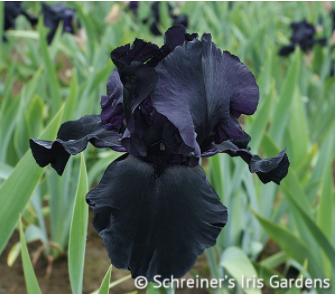 Iris 'Blackwater'
Hybrid Tea Rose 'Black Baccara'
Okay, so it's not entirely black, but this hybrid tea with deep brugundy-black petals certainly adds drama to the garden. Velvety blooms emit a slight nutty fragrance.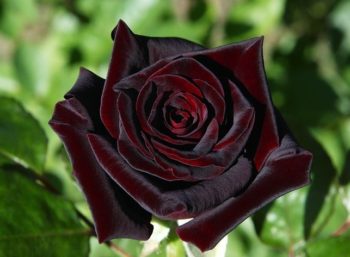 Hybrid tea rose 'Black Baccara'
Hemerocallis 'Derrick Cane'
One of the darkest near-black varieties, this hemerocallis features 5″ blooms on tall stems. Blooms in midseason and re-blooms in the fall.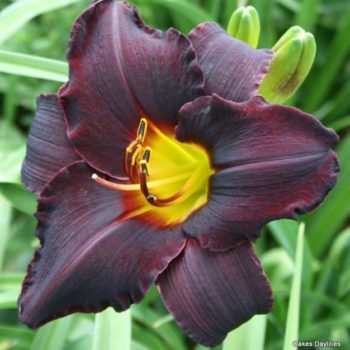 Hemerocallis 'Derrick Cane' available through Oakes Daylilies
Petunia 'Black Cat'
While in recent years, you can find many petunia varieties that are purple or bluish-black, this new variety available through Burpee, claims to be the world's first truly black petunia.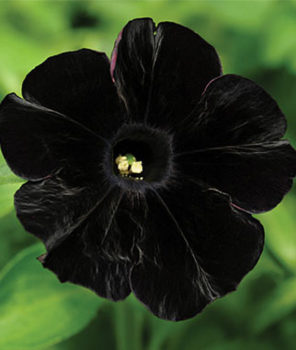 Petunia 'Black Cat' via Burpee.com
Pansy 'Black Prince'
One of my very first encounters with a deep-toned flower occurred in our neighbor's garden when I was very young. I can still remember reaching down to stroke the velvety petals of the deep purple pansies that lined his garden pathway. This creamy black pansy is sure to spice things up in cool-season containers or at the front of your garden border.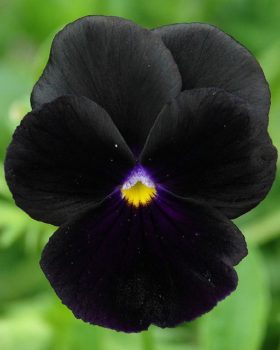 Pansy 'Black Prince'
PLANTS WITH BLACK FOLIAGE
When it comes to color, don't forget foliage, which plays a vital role in the garden as flowers bloom and then fade. One of the best examples of an almost-black plant (whose cultivars keep getting darker), is Heuchera, or Coral Bells. Just when I think I've found one that is the deepest , most delicious, purply black , another is introduced.
Heuchera 'Obsidian'
This variety has a glassy finish, just like obsidian. It is closer to black than most other heucheras. The rounded, smooth leaves are so smooth they appear polished, while even the undersides of the leaves maintain a deep purple hue. Best color when grown in partial shade.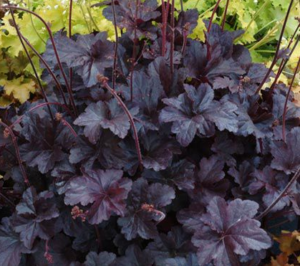 Elderberry (Sambucus Nigra) 'Black Lace'
My own elderberry bush grows on the side of my house and produces soft pink, umbrella-shaped flowers in early summer. But, I love it for its fine-cut, deep purple black foliage that adds dimension to my garden. In the fall, elderberry produces blackish-red fruits that can be harvested to make wine and jam.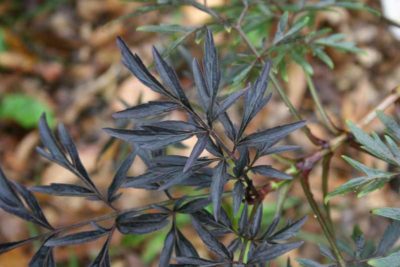 Sambucus nigra 'Black Lace' via Missouri Botanical Garden
Sweet Potato Vine 'Blackie'
Not quite ready to take the plunge? Try easy-care Sweet Pototo Vine 'Blackie' in your summer containers. It's deep purple black foliage plays provides contrast with bright colored flowers and adds structure to the arrangement.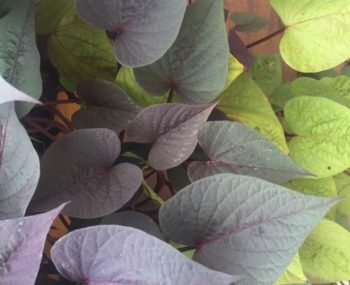 So what about that Black Bat Flower? A member of the yam family, its unusual dark purple to black flowers are bat shaped and have long whiskers that grow up to 28 inches in length. The plant is native to Southeast Asia, where it can bloom up to eight times per season.